Heorhiy Narbut Prize
Four Stamp Issues Dominated 1999 Narbut Prize Balloting
Less than a dozen ballots separated these four issues, any one of which would have been a worthy winner. A brief description of each of these releases follows.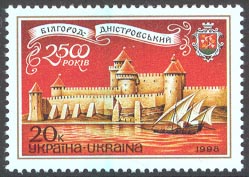 In fourth place with nine percent of the vote was the single stamp issue honoring the 2,500 Year Anniversary of the Founding of Bilhorod-Dnistrovskyi; this city was first established as the ancient Greek colony of Tyras. Shown on the stamp is the massive Bilhorod fortress as it looked in the 15th century. The generous use of red in the design created a very dramatic, unusual, and pleasing effect.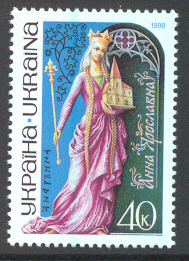 In third place with ten percent of all the ballots was the colorful "Renowned Women of Ukraine" issue honoring Anna Yaroslavna (ca. 1024-ca. 1075). The daughter of Yaroslav the Wise (often called the "Father -in-Law Europe" because so many of his children married into European nobility), Anna became queen of France in 1049 and ruled as regent for her son Philip I from 1060-1062. The stamp shows her holding a model of a church she sponsored as well as the royal scepter; it is a worthy addition to the series begun in 1997 (with St. Olha and Roksolana).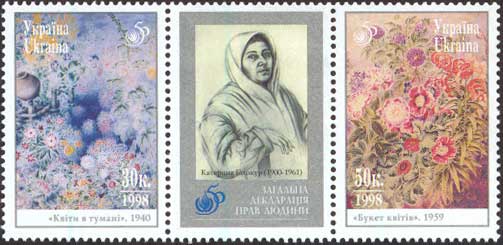 The issue receiving the second highest number of votes (11 percent) was a two-stamp-and-label combination prepared for the 50th Anniversary of the Declaration of Human Rights, which featured two works by the self-taught folk painter Kateryna Bilokur (1900-1961) along with a self-portrait of the artist (reproduced on the middle label. Bilokur's oeuvre continues to be very popular in Ukraine and it is altogether appropriate that her amazing talent was showcased in such a prominent manner.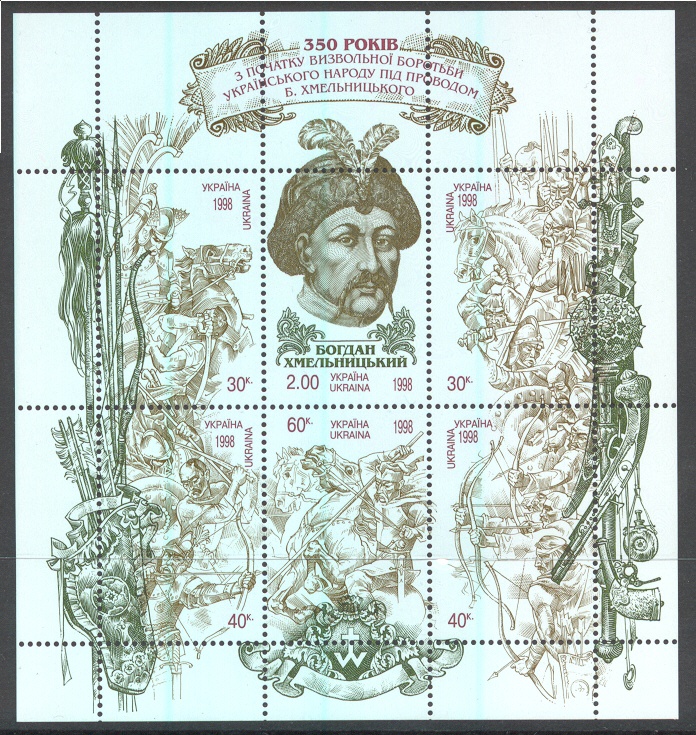 The issue amassing the most votes (almost 13 percent) was the striking souvenir sheet commemorating the 350th Anniversary of the Beginning of the Ukrainian Struggle for Freedom under Bohdan Khmelnytsky. Surrounding a central portrait of the Hetman are what might be termed inner and outer framing elements. The former (in a lighter ochre color) consist of various dramatic battle scenes between Cossacks and Polish soldiers; the latter (in dark green) show articles of Cossack paraphernalia: a bunchuk (horsetail emblem of authority), spears, bow and quiver with arrows on the left; and swords, pistols, and a hetman's mace (bulava) on the right.
This release was the most spectacular of the recent stamps honoring Ukraine's Cossack heritage. The design of this elaborate issue was a joint effort among four artists: V. Taran, O. Kharuk, S. Kharuk, and V. Kozachenko. This was the second year in a row that the first two artists had won. In 1997, Messrs. V. Taran and O. Kharuk collaborated on the splendid Europa souvenir sheet depicting the legendary founding of Kyiv. Despite the fact that the $250 prize money was split four ways, the artists still received substantially more than the approximately $25 (100 hryven) that they were first paid for their work. (Even the best of Ukraine's artists/designers receive miserly remuneration for their creations.)