National Bank of Ukraine issues coins commemorating the Maidan protests
Details

Published on

20 March 2015

Written by UPNS Admin
Hits:

27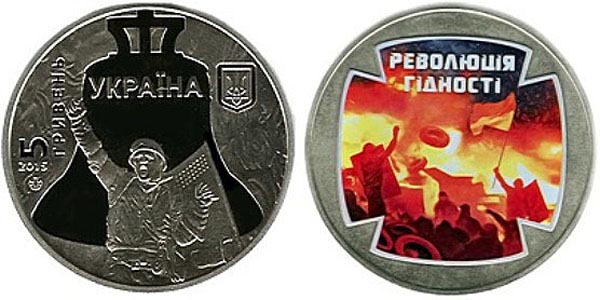 The National Bank of Ukraine announced on Feb 18, 2015 the launch of three commemorative coins, the Heroes of Maidan series, 2015, dedicated to last year's protests on Maidan that led to the change of power in Kyiv. The coins are called The Revolution of Dignity, Euromaidan and Heavenly Hundred. Each coin has a nominal value of 5 hryvnia and 50,000 were minted of each. The artists who composed the coins are Vladimir Taran, Alexander Kharuk, and Sergei Kharuk.
UPNS Stamp Meet "Zustrich 2015" - May 2-3
Details

Published on

12 March 2015

Written by UPNS Admin
Hits:

47
Mark your calendars! "ZUSTRICH 2015" is being held on Saturday and Sunday, the 2nd and 3rd of May at the Ukrainian Homestead just outside Lehighton, PA. A few members arrive Friday after 6pm to catch up with friends and rest after a long trip.
Although the resort is busy during the summer with many planned functions, this weekend is ours to enjoy. Zustrich is an annual reunion for many familiar faces in a very informal setting and for first timers an opportunity to make new friendships. A few of our members are even accompanied by their wives who enjoy meeting the other philatelists! The resort grounds are wonderful for walking around during spring while the great tourist town of Jim Thorpe is just a few miles away and is a great place to see.
2015 Ukraine Stamp Program
Details

Published on

08 March 2015

Written by UPNS Admin
Hits:

75
The UkrPoshta Stamp Program for 2015 features 8 blocks and 38 stamps.  This year Ukraine and Poland are issuing a joing issue.  Poland is no stranger when it comes to working closely with Ukraine on joint projects.  The last successful joint venture were the 2014 FIFA games and a number of beautiful stamps were issued as a result.  As well a last minute addition to the program is a stamp commemorating the anniversary of the Heavenly Hundred who gave their lives to depose a president during the 2014 EuroMaidan revolution.
Issue dates are subject to change by Ukraine Post.  The program is valid as of February 2, 2015.
Canada 100th Anniversary First Internment Camp Stamp
Details

Published on

06 March 2015

Written by UPNS Admin
Hits:

64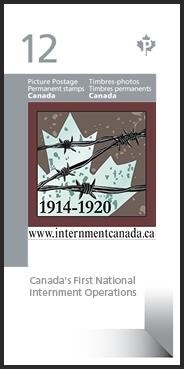 16 December 2014 - Ottawa - The Ukrainian Canadian Congress (UCC) is pleased to announce that a stamp commemorating the 100th anniversary of Canada's First National Internment Operations is available for purchase.
During the First World War, thousands of Canadians, many of them of Ukrainian heritage, were designated "enemy aliens" and incarcerated under the War Measures Act in 24 internment camps across Canada, not for what they had done but for who they were or where they had come from. The Endowment Council of the Canadian First World War Internment Recognition Fund (CFWWIRF), undertook to design a Canada Post Picture Postage Permanent Stamp as part of their efforts to ensure that the story of Canada's First National Internment Operations of 1914-1920 receive proper recognition among Canadians. The Ukrainian Canadian Congress has organized these stamps to be made available to the general public through a grant by the Endowment Council of the CFWWIRF.
Australian Support For Ukraine
Details

Published on

19 December 2014

Written by UPNS Admin
Hits:

159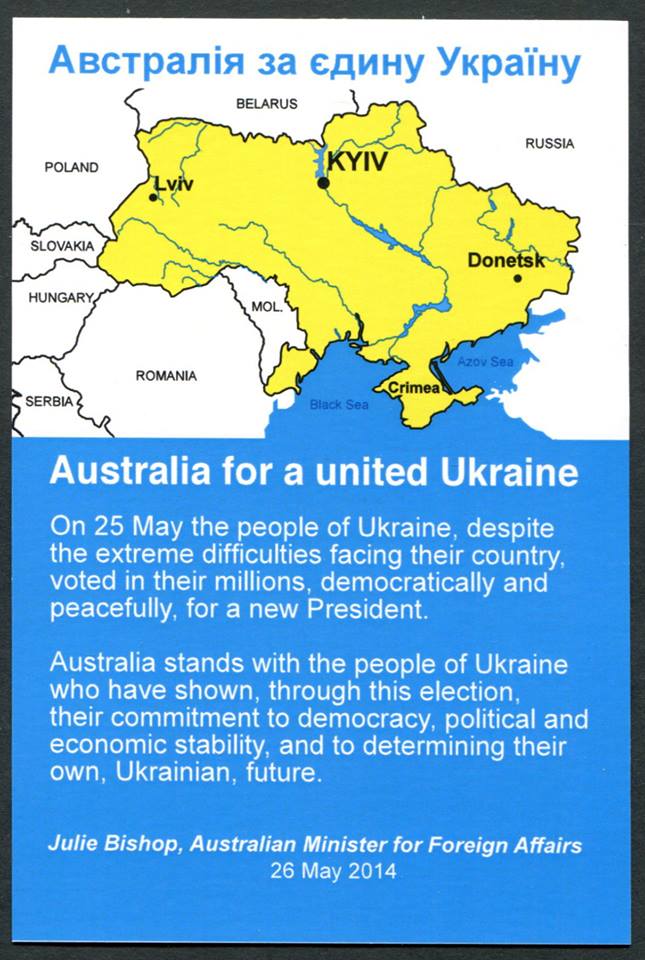 In the aftermath of the recent state visit to Australia by Ukraine's President Petro Poroshenko, the Ukrainian Collectibles Society (UCS) on Saturday, December 20, 2014 will release its first official postcard which underlines Australia's moral and financial support for Ukraine. The card quotes Australian Minister for Foreign Affairs, Julie Bishop. Cards are available for sale through normal local and internet channels by emailing your intended order to This email address is being protected from spambots. You need JavaScript enabled to view it. Once your email is received you will be sent an order form and payment instructions. The cost per card is AU $2.00 with all proceeds going to humanitarian and medical NGOs in Ukraine that support the ongoing struggle against Russian-backed terrorists.