A UNIQUE OPPORTUNITY
Details

Published on

03 August 2014

Written by UPNS Admin
Hits:

37
The recent discovery of some out-of-print back issues of Ukrainian Philatelist has enabled the virtual reconstruction of a 25-year run (1986-2010) of the journal (nos. 49-104). (Only two issues from the late 1990s (nos. 79 and 81) are missing.) That's 54 issues plus several supplements, which accounts for over 70% of all the pages in Ukrainian Philatelist during its first six decades (1951-2010)! (Many of the early issues of Ukrainian Philatelist from 1951 to 1985 were very slim and generally written in Ukrainian.)
This is a tremendous opportunity for a Ukrainian philatelic researcher.
The price for this set is only $150us (that's less than $3/issue) plus $25 shipping to a US destination (arrangements can be made to ship abroad, but postage would be considerably higher). Only one set is available on a first come, first served basis.
Contact: Ingert Kuzych, Ukrainian Philatelic Resources, P.O. Box 3, Springfield, VA 22150 USA or at: This email address is being protected from spambots. You need JavaScript enabled to view it.
2014 EUROPA Competition
Details

Published on

03 August 2014

Written by UPNS Admin
Hits:

46
PostEurop is proud to present the 2014 Europa stamps entries for the theme "National Musical Instruments". Till 31 August 2014, here is your chance to vote for the most beautiful Europa stamp in 2014. Please vote for your favorite. Ours of course is Ukraine! Vote here http://www.posteurop.org/StampContest
Ordering Shevchenko Stamps
The Canada Post Picture Postage stamp honouring the 200th anniversary of Tara Shevchenko's birth is available. Order your sheet, booklet or FDC before the limited quantity runs out. Download the order form and either email your order to This email address is being protected from spambots. You need JavaScript enabled to view it. or mail it to the address on the form. This Picture Postage stamp is not available at Canada Post offices and must be ordered directly from the Ukrainian Collectibles Society (Toronto).
Australia Kashtan Heritage Stamp
Details

Published on

24 March 2014

Written by UPNS Admin
Hits:

281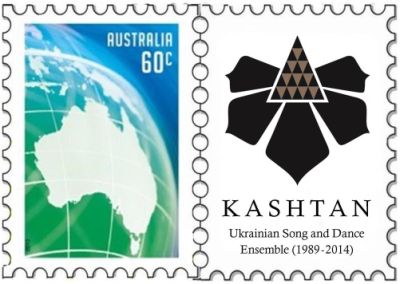 The Ukrainian Collectibles Society (UCS) of Australia announced the next stamp in the Australian-Ukrainian Heritage personalized stamp and envelope series. The stamp will be issued April 12, 2014. Last day to order is March 31, 2014.
Issue No. 10 - KASHTAN Ukrainian Song and Dance Ensemble Inc.
The Ukrainian Heritage Personalised Stamp and souvenir envelope series is designed to provide a tangible and collectible philatelic record of the history of various Ukrainian organisations in Australia since 1948, recognising and commemorating their respective unique contributions to Australia's Ukrainian and wider communities.
Ukrainian Philatelist #109 Image Closeups
Ukrainian Philatelist #109 (©2013) published an article titled Military Free of Postage Hand-Stamps, page 32. This article was a compilation of material and information supplied by Roman Dubyniak, Peter Cybaniak, and Mark Stelmacovich. Most recently, Jerry Tkachuk submitted a further bogus cover in addition to that which I owned. Supplied here in the 'UPNS members' access part of our website are the scans that were part of this article, in the case that our members would like to examine these items as such. The several scans that were part of the 'Contemporary Ukrainian Imperforates' article are also included herein as such, and more!