Ukrainepex 2017 - Toronto - Nov 10-11
Details

Published on

04 October 2017

Written by UPNS Admin
Hits:

730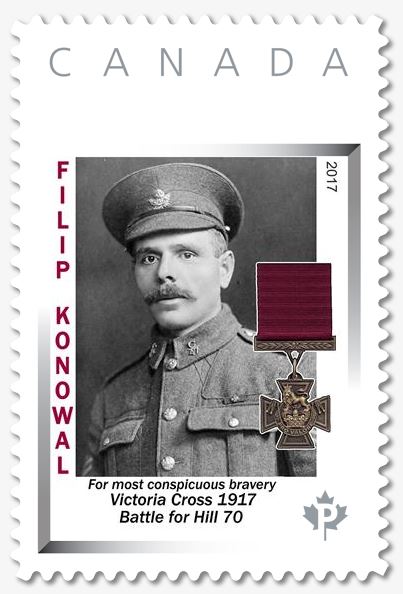 The Ukrainian Philatelic and Numismatic Society's Toronto chapter, the Ukrainian Collectibles Society (Toronto), is hosting an international philatelic, numismatic and collectibles exhibition "Ukrainepex 2017" on Friday November 10, and Saturday November 11, 2017 at the Old Mill Toronto (21 Old Mill Road, Toronto) - Brule Room. The event is being held in conjunction with the Ukrainian World Congress' conference "Shaping the Future."
The juried show promises to be one of the largest ever featuring outstanding Ukrainian philatelic material, both classic and current As well, there will be exhibits of bank notes, coins, medals, sport cards, ex libris and other Ukrainian-related collectable materials.
This year's Ukrainepex themes focus on two important anniversaries for the Ukrainian diaspora: In 1917 acting corporal Filip Konowal, a member of the Canadian Expeditionary Force, showed extraordinary courage and leadership during the Battle of Hill 70 in France which earned him the Victoria Cross, the highest award for valour in the British Commonwealth. In 1967, the World Congress of Free Ukrainians – an assembly coordinating the activities of Ukrainian organizations in diaspora – was established in New York. In 1993 it was renamed the Ukrainian World Congress. One of its initiators and its first president was Reverend Monsignor Dr. Wasyl Kushnir of Canada. He was also the co-founder and first president of the Ukrainian Canadian Committee (1940-53). An outspoken anti-communist, in 1945 he led a delegation to the inaugural meeting of the United Nations at San Francisco to challenge the right of the Ukrainian Soviet to represent Ukrainians.
To commemorate the two anniversaries, two Canada Post "Picture Postage" stamps will be released during the show – one to honour Victoria Cross winner Filip Konowal while the second to celebrate the 50th anniversary of the Ukrainian World Congress. The stamps will be available for purchase and may be affixed to a limited edition cachet envelope and cancelled with a special show Canada Post cancel.
Show hours are from 9am to 4pm both days and there is no admission.
Accomodations
Out of town guests may stay at the adjoining Old Mill Hotel (4.5 rating) at a rate of $165 Canadian plus tax (HST). A Hospitality Fee of $ 10.00 per room, per night, will be added on to the guest room rate. The Fee includes; daily parking, in-room WiFi, local and toll free calling, in-room Keurig coffee/tea brewer, 2 bottles of water (excluding mini bar), evening turn down service, limited business services, 24 hour access to our fitness room and select concierge services.
All guests are to make their room reservations directly with the Old Mill Toronto. To receive the special group rate, all guests are to identify themselves as part of the Ukrainian Collectibles Society (Toronto) room block at the time of booking. The direct local reservations line is 416-232-3703; or call Toll Free 1-866-OLD-MILL (1-866-653-6455) and ask for Room Reservations. Reservations made by individuals will require a valid credit card at the time of booking. A non-refundable deposit in the amount of one night's room charge plus HST will be charged to the credit card on file three days prior to the arrival date. In the event guest rooms are still required after October 10, the contracted group rate may or may not be available, based on the number of guest rooms remaining for resale.
Please note that all rooms at The Old Mill Toronto are non-smoking. A deep cleaning fee will be charged if there is any evidence of
smoking in the guest room(s).
Alternative accomodations are at the Super 5 inn Mississauga (3.0 rating) where a room is $75 +tax. The Inn is located at 2171 Dundas Street East, Mississauga, approximately 4 miles (6.5 km) from The Old Mill. The direct local reservations line is 905-624-6424, or call Toll Free 1-844-624-6424.
For more information write to ucst@upns.org