Heorhiy Narbut Prize
Colorful Headdress Issue Wins Top 2008 Prize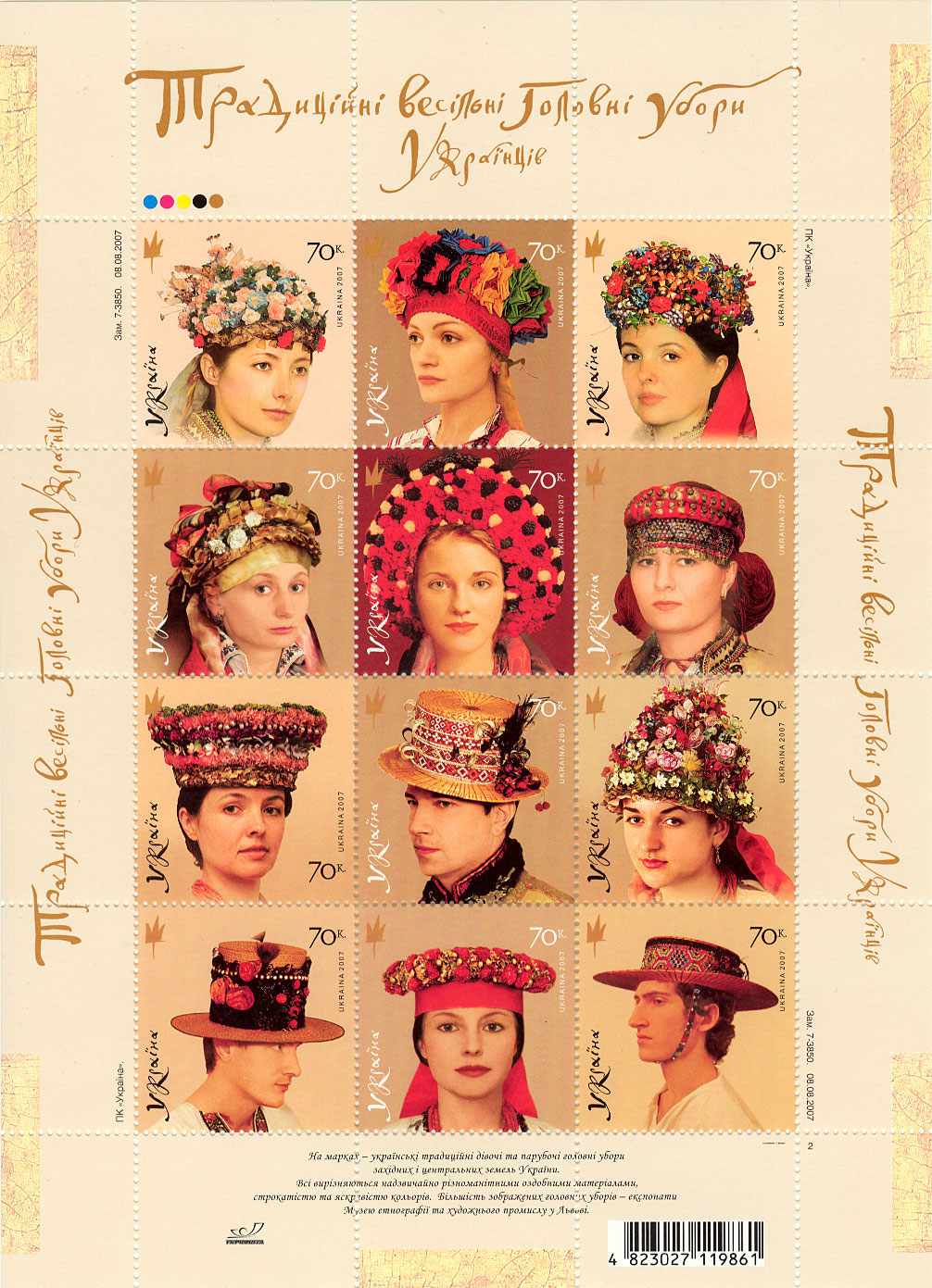 A set of 12 stamps depicting "Traditional Ukrainian Wedding Headdresses" won the prestigious Heorhiy Narbut Prize as the best-designed Ukrainian stamp release of 2007. The dozen dazzling 70-kopiok stamps appeared together on a miniature sheet that presented nine ladies' head pieces and garlands and three men's decorated hats. Most of the headdresses are decorated with flowers, ribbons, and/or embroidery, while a few of them also display feathers.
The headdresses appearing on these stamps are from the western and central provinces of Ukraine: the regions of Polissia, Ivano-Frankivsk, Lviv, Kyiv and Ternopil. The majority are housed in the Museum of Ethnography and Artistic Crafts in Lviv.
This special stamp release follows on from a similar 12-stamp miniature sheet first created in 2006, which showed "Traditional Ukrainian Ladies' Headdresses." Most of those stamps, however, focused on scarves and simpler hats and did not make as much of an impression with Narbut Prize voters as last year's effort.
More About Ukrainian Wedding Headdresses
Wedding headdresses expressively depict Ukraine's different historic and ethnographic regions. The weaving of flower garlands in these areas was an important pre-wedding ritual. There were many rules or traditions involved with this rite because every detail of the garland, or more often of a more complex wedding headdress, had its symbolic meaning. Flowers that symbolize life and prosperity were used for the garlands. Paper, feathers, cloth, beads, ribbons, etc. were the main materials that could be added. Fresh flowers were never incorporated because their short life might reflect on the duration of the marriage. Periwinkle leaves, representing eternity, were the only fresh plants used.
Some garlands were large and had a complex design with a wire frame. Constructing such elaborate head pieces often required considerable practical and artistic skill. In addition to the artificial flowers and periwinkle leaves, glass beads, spangles, coins (for wealth), and garlic heads (to guard against evil spirits or the evil eye), were incorporated. In some regions the artificial flowers and periwinkle leaves were dipped into honey (to symbolize the sweetness of the union)!
Some wedding headdresses were not woven but were instead sewn onto a base of straw ribbon or cardboard and felt. Strings of beads and ribbon would be sewn onto the base in amazingly intricate and beautiful shapes. In the Ternopil region both traditions were combined: the bride's head garland remained a cap with many ribbons and decorated with beads, while the cap's front and back were decorated with artificial flowers and periwinkle leaves. Brides had their hair coifed to match their headdress.
The man's wedding head gear was not as elaborate as his partner's. In many regions of Ukraine men wore woven straw hats decorated with one or several strings of beads, embroidered ribbons, woolen tassels, artificial flowers, and/or feathers (rooster, drake, or peacock).
A unique feature of Ukrainian stamps is the luminescent tagging that appears in a designated place on each stamp. On the "Headdresses" stamps it is the stylized trident (Ukraine's emblem; appearing in the upper left corner of each stamp) which glows under ultraviolet light. Since 1994, virtually all stamps printed in Ukraine have shown some form of luminescence.
The designs for the Traditional Ukrainian Wedding Headdresses issue were a collaborative effort between artists Vasyl Vasylenko and Svitlana Bondar. Both artists will receive equal shares of the Narbut Prize honorarium. This marks the third year in a row that Ms. Bondar has shared in the Narbut Prize.
Other Top Vote Getters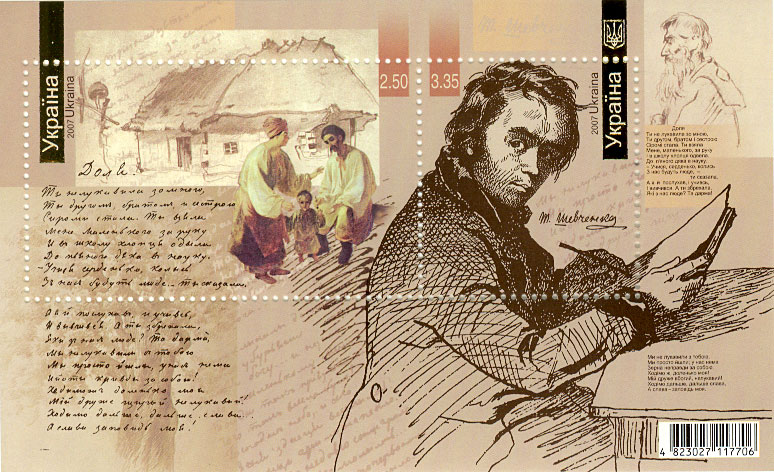 While the "Headdresses" stamps garnered almost 12% of the voting for this year's Narbut Prize, several other issues also finished strong in the balloting. Second place went to the souvenir sheet honoring Ukraine's National Bard "Taras Shevchenko" (9% of the votes). Featured on this two-stamp (2.50 and 3.35 kopiok) sheet were several drawings by the poet-artist as well as a facsimile of his poem "Fate."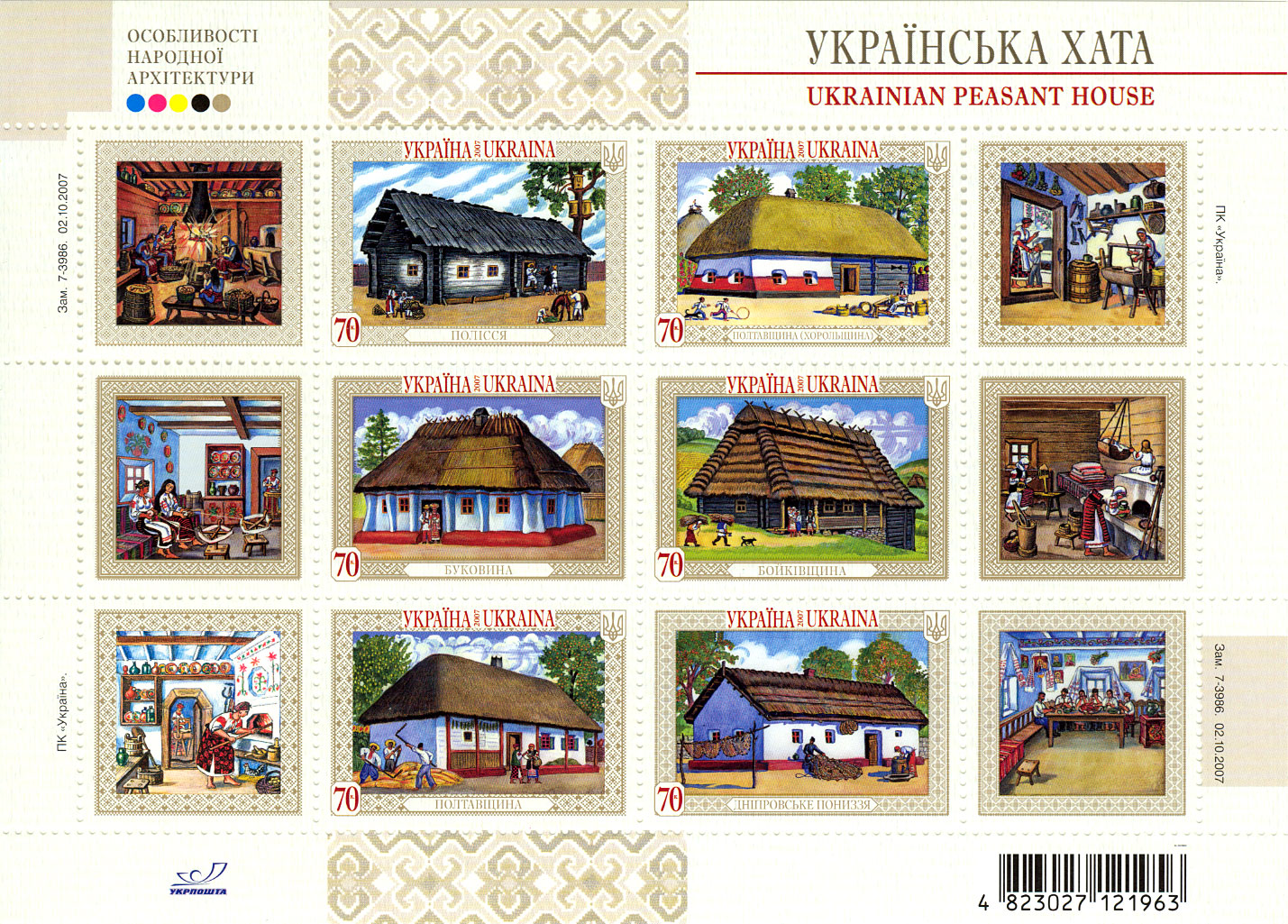 In third place with 8% of the ballots was a set of stamps illustrating "Ukrainian Peasant Houses." Shown on two six-stamp miniature sheets were traditional homes from various Ukrainian regions. Each of the vivid 70-kopiok house stamps showed a different domicile from the exterior and had an attached label that showed an interior view. It proved to be a very attractive combination and an effective sheet layout.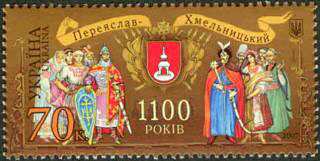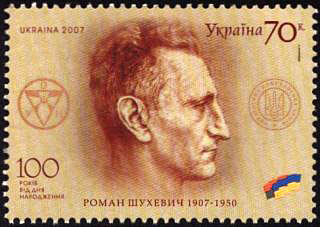 Tied for fourth place with 7% of the ballots were two single 70-kopiok stamps, the first honoring the "1100th Anniversary of the City of Pereiaslav" (in Khmelnytsky province; Figure 4), while the other commemorated Ukrainian freedom fighter "Roman Shukhevych" (1907-1950). The former showed famous personages from the city's history arrayed around the Periaslav coat of arms, while the latter depicted a profile portrait.
Other releases that did well in the balloting (all with about 6% of the votes) included a set of four stamps that presented "Locomotive Engineering in Ukraine," four designs for "Personalized Stamps," and 15 new definitive stamps depicting "Ukrainian Folk Art."
The wide variety of subjects depicted on Ukraine's 2007 stamps was reflected in the balloting for this year's Narbut Prize for best stamp design. Almost every one of last year's stamps or souvenir sheets appealed to someone and subsequently received some votes. However, as the 15 August deadline approached, it became clear that the "Headdress" issue would prevail.
The Narbut Prize is sponsored by the Ukrainian Philatelic and Numismatic Society (UPNS; based in the US) and continues to be recognized as the premier philatelic art award in Ukraine. The Heorhiy Narbut Prize honors Ukraine's outstanding graphic artist of the early 20th century. Mr. Narbut prepared the three high-value stamps (30, 40, and 50 shahiv) from Ukraine's first postage stamp issue of 1918. He also designed about a dozen of Ukraine's first banknotes.