Ukrainian Collectibles Society of Australia
Ukrainian Collectibles Society Exhibition of "Ukrainica"
The President of the Australian Federation of Ukrainian Organisations (AFUO) Mr Stefan Romaniw OAM welcomed guests to the exhibition "Ukrainian Nation, its past and present". The Honourable Matthew Guy (MP), member of the Victoria Parliament, opened the exhibition, highlighting Ukraine's rising star in Australia, the contribution made by Ukrainians over 60 years of settlement and the importance of heritage, as demonstrated by the exhibition. Mr Frank Fursenko (UCS President) then introduced the Society and briefly described the treasures it had collected. Collectibles, he said, provide a unique window onto the life of a people. They described the twists and turnes of Ukrainian life in all its political and community permutations.
Members of the organizing committee in attendance were: Frank Fursenko (UCS President), Jerry (Yaroslav) Popadiuk (UCS member) and George (Yurii) Fedyk (UCS Secretary/Treasurer).
Jerry and George put the exhibit up on Friday night which took 3½ hours. The exhibit was open from until on Saturday.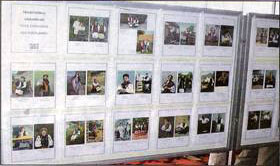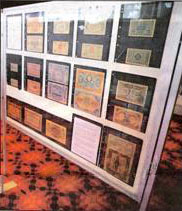 Exhibits presented at the XIII National Ukrainian Festival, Melbourne 2009, included:
| | |
| --- | --- |
| Sichovi Striltsi (Sich Riflemen, 1915) | History of Ukraine |
| Ukrainian National Republic Issues | Kozaks and Hetmans |
| Occupation Issues | Traditional Ukrainian Costumes |
| Displaced Persons & POW Issues | Ukrainian Shipbuilding and Aviation |
| Ukrainian National Council Issues | Ukraine: Cosmic Nation |
| Underground Post of Ukraine Issues | Famous Ukrainians on Stamps |
| Cinderella and Private Issues, 1900-1992 | Special Ukrainian Events on Covers |
| Ukrainian Bandurist Chorus (USA) | Nationhood Symbols |
| Ukrainian Scouting Organisation PLAST | Ukrainian Culture, Traditions and Culture |
| Classic and Modern Banknotes | World Ukrainica – Stamps and Covers |
| Local Provisional Stamps, 1992-1995 | Ukraine's First Phonecards |
| Ukrainian Passports and Identity Papers | Artificial Famine Holodomor, 1932-1933 |
| Modern Excise Labels | Zazzle Stamps from the USA |
The whole exhibition displayed a wide panorama of Ukrainian collectibles. What the UCS had on display was an extremely small portion of material they collect. The Ukrainian Collectibles Society is Australia's only organization solely devoted to the collecting and preservation of Ukrainica (collectible materials relating to Ukraine). The Society specializes in classic and modern postage stamps, postal stationery, postcards, commemorative envelopes, Diaspora collectibles, coins and banknotes, passports and other historic documents, reference materials and literature. The Society also prepares and displays specialized exhibits for local and interstate events and functions on a wide variety of Ukrainica collectibles and topical subjects.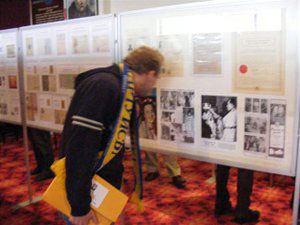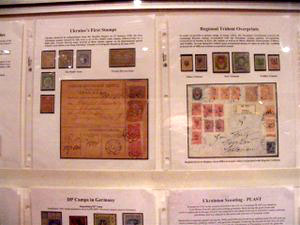 They are well-known internationally and in Ukraine. George himself had exhibited in Ukraine, and met many of the key figures in Ukraine. He has been the international English language editor of philatelic journals, run a business selling Ukraine stamp album pages, and published an English-language Ukraine stamp catalogue. The UCS also issued various commemorative souvenir envelopes and stamps and has worked with Australia Post issuing Ukraine topic stamps and postmarks. They are celebrating their 15th anniversary this year. Congratulations!
Their next target is Sydney with the goal of promoting Ukrainica and Ukraine philately, and attract other people with similar interests in such collecting areas.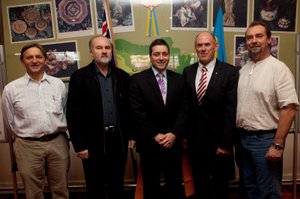 from left: Frank Fursenko (UCS President), Jerry (Yaroslav) Popadiuk (UCS member), Matthew Guy MP, Shadow minister for planning ( his mother is Ukrainian) , Stefan Romaniw (CYOA President), and George (Yurii) Fedyk (UCS Secretary/Treasurer).