Ukrainian Collectibles Society of Australia
2008 Holodomor Issue From Australia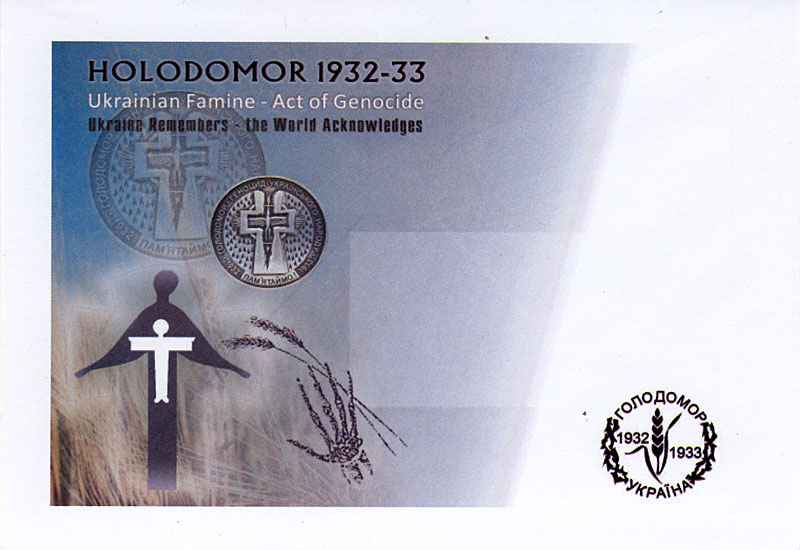 Orders can only be placed through the UCS. Please note that Australia Post only issues Personalised Stamps in "peel and stick" format, not gummed. The personalised label in fact forms part of the stamp giving a single unit. There will be two denominations 55 cent for domestic mail and $2.05 for international mail. Each denomination has a different base stamp design. A very limited number of international stamps will be made available. All prices are in Australian currency and international orders will be converted on the day of receipt of an order. The commemorative envelope is C6 size (160 mm x 115 mm) and in full colour.
Orders All orders should be submitted by email or telephone to George Fedyk. It is highly recommended to place orders at the earliest opportunity due to limited stocks. Please submit your personal details, quantities and method of payment. Addressed and posted FDC are only available if ordered by 15 November 2008.
Personalised Stamps
| | |
| --- | --- |
| Domestic 55-cent price per single stamp | $1.50 (eg/ 4 stamps = $6.00) |
| Price per special corner block of 3 | $5.00 (limit of one per person) |
| Price per sheet of 20 | $30.00 |
| International $2.05 price per single stamp | $3.00 (limit of two per person) |
First Day of Issue covers
| | |
| --- | --- |
| Domestic 55-cent price per FDC | $2.50 |
| International $2.05 price per FDC | $4.00 |
FDCs can be either posted direct to your address or sent mint in a separate envelope. Domestic FDC cannot be posted to overseas destinations. Blank
Envelopes
| | |
| --- | --- |
| Blank un-serviced envelopes price per envelope | $1.00 |
Postage costs
Postage and handling costs are subject to your total order and you will be notified as soon as there is no charge for posting FDC direct to you. Additional postage charges only apply for mint stamps, mint FDC and blank envelopes which will be posted approximately two weeks after the release date.
Payment options
Paypal transfer account: bandura@ozemail.com.au (please include a notation with your name)
funds transfer (Dnister Ukrainian Credit Coop) BSB: 704-235; account: 02800283 (please include a notation with your name for identification)
cheque or money order payable to: Ukrainian Collectibles Society (posted to: Ukrainian Collectibles Society, PO Box 466, Woodville SA 5011 AUSTRALIA)
Enquiries George Fedyk M 0412 702 234 (UPNS Vice President) H 08 8445 9825 (international: +61 8 8445 9825) E-mail
bandura@ozemail.com.au