Ukrainian Collectibles Society(Toronto)
Informed about an ever increasing 'schism of regionalism' amongst the many Canadian parishes of Ukrainian diaspora, it became part of Sheptyskyi's mission to travel to Canada. He completed nation-wide visits to parishes of many communities over a three month period. These parishes soon began to re-focus on the greater good rather than conflicting interests. As a result, we see in today's vertical mosaic a common interest which continues to add to Canada's rich diversity.
The stamp and accompanying cover were issued at the UCST annual stamp show which was held at Ukrainian Canadian Social Services in Toronto on October 16, 2010. A Metropolitan Sheptytskyi exhibit featured stamps, postcards and cachets issued in Ukraine and the Ukrainian diaspora. In addition, articles from 1910 Canadian newspapers were exhibited chronicling his visit across Canada.
The Servant of God - Metropolitan Andrei Sheptytsky
Roman Oleksander Sheptytsky was born in Prylbychi on July 29, 1865. He graduated with a doctorate in law in 1888. That same year, he entered a monastery and took the name of the Apostle Andrew. He was ordained a priest in 1892 and in 1894 completed his doctorate in theology.
In 1899, father Sheptytsky was consecrated Bishop of Stanyslaviv. Two years later he was installed Archbishop of L'viv which is the ranking hierarch of the Ukrainian Catholic Church. In 1903 he was appointed member of the House of Lords in the Austro-Hungarian parliament.
Metropolitan Sheptytsky attended the 21st International Eucharistic Congress in Montreal in 1910 and subsequently visited Ukrainian communities across Canada to lay the foundation of the Ukrainian Catholic Church in Canada. During September, October and November, stops included Vancouver, Calgary, Edmonton, Sifton, Mundare, Yorkton, Winnipeg, Fort William, Toronto and other locations. He returned to Canada in 1921.
The metropolitan was a great philanthropist and actively supported Ukrainian organizations such as Plast and Prosvita, and established a museum, hospital and a theological academy. During World War II, he risked his life by sheltering Jews at his residence and in Ukrainian Catholic monasteries. He also issued the pastoral letter "Thou Shall Not Kill" condemning Nazi atrocities. Metropolitan Sheptytsky died in Lviv, on November 1, 1944.
«Слуга Божий» Митрополит Андрей Шептицький
Роман Олександер Шептицький народився 26 липня 1865р. в селі Придбичі. 1888р. він здобув докторат з права. Того ж року вступив він до монастиря та прийняв ім'я Андрей. В 1892р. був висвячений а в 1894р. здобув докторат з теології.
У 1899р. о. Шептицького висвячено Станіславським епископом а два роки пізніше Львівським митрополитом. 1903р. його назначено до Австро-Угорського сенату.
У вересні 1910р. Митрополит Андрей Шептицький взяв участь в 21-му Міжнародному Евхаристійному Конґресі у Монтреалі. Опісля він відвідав українські поселення по Канаді з метою заложити Українську Католицьку Церкву у Канаді. Митрополит відвідав Ванкувер, Калґарі, Едмонтон, Сифтон, Мондер, Йорктон, Вінніпеґ, Форт Віліям, Торонто та інші місцевості. Він повернувся до Канади 1921р.
Митрополит Шептицький був великим меценатом, підтримуючи, між іншим, Пласт та Просвіту, та засновуючи музей, шпиталь та богославську академію. Під час 2-ої Світової Війни Митрополит Шептицький, ризикуючи своїм життям, переховув жидів у своїй резиденції та по монастирях. Він написав пастирське слово «Не вбивай» - засуджуючи нацистську окупацію України. 1-го листопада 1944 р. Митрополит Андрей Шептицький помер у Львові.
Additional information may be found on Metropolitan Sheptytskyi at the following sources:
http://www.ukemonde.com/sheptytskyi/index.html
http://en.wikipedia.org/wiki/Andrey_Sheptytsky
http://www.encyclopediaofukraine.com/pages/S/H/SheptytskyAndrei.htm
Stamp and Cachet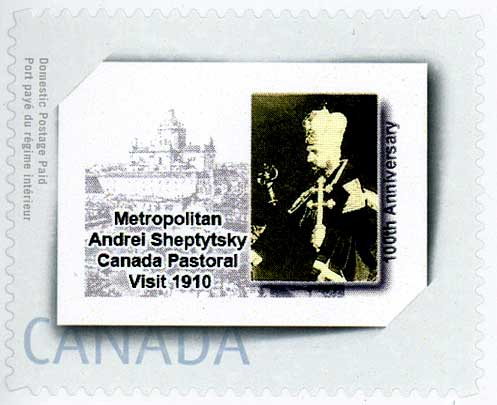 Picture postage stamp depicts Metropolitan Sheptytskyi holding the patriarchal cross in his left hand and the sceptre of office in his right hand. The photo was taken in c.1914. To the right of the photo are the words "100th Anniversary." In the background is St. George's Cathedral located in the city of Lviv, the historic capital of Western Ukraine. Below the 1916 photo of the Catheral are the words "Metropolitan Andrei Sheptytsky Canada Pastoral Visit 1910." Stamps issued: 1260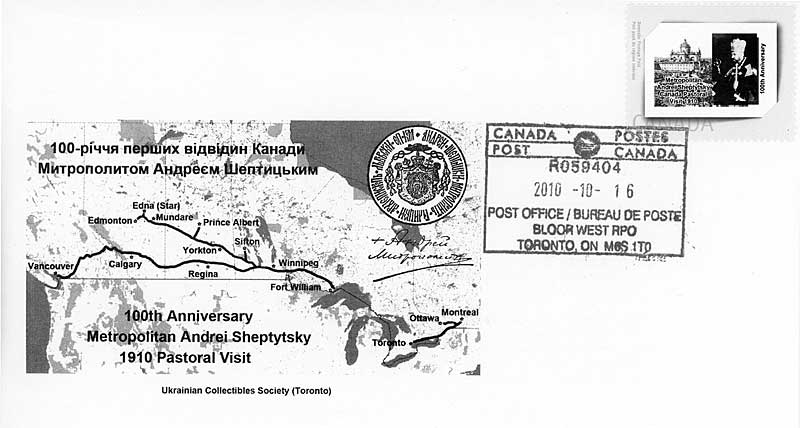 The front of the cover features a cachet illustrating Sheptytskyi's year-1910 route across Canada. Please note that while Sheptytskyi was travelling in the Great-Lakes area, he spent some time across the border in the USA. You will see this, as the part of his eastern Canadian route appears separate from the western part. To our knowledge, this is the first such map detailing Sheptytskyi's year-1910 Canadian route. The upper-right portion of the map shows the Metropolitan's coat-of-arms above his signature. The cover bears a 'first-day-of-issue' cancellation date October 16, 2010. Covers issued: 100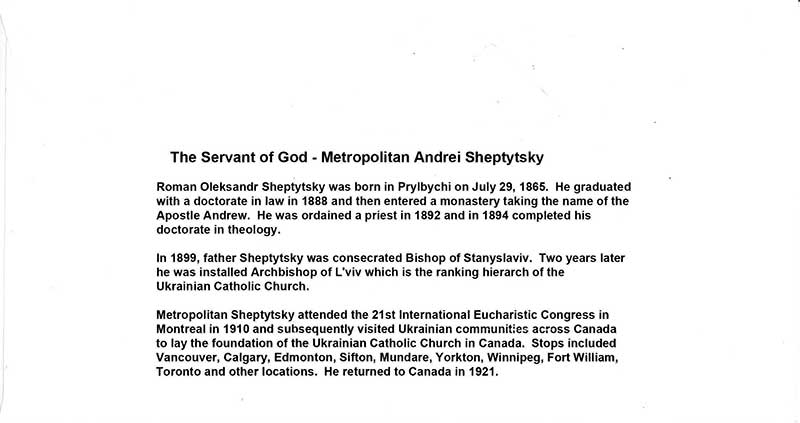 The back of this cover has a brief historical and bio about Metropolitan Sheptytskyi.
Limited quantities of the stamp and cachet are still available. If you are interested, please contact ucst@upns.org for prices.