Article
National Bank of Ukraine issues coins commemorating the Maidan protests
Details

Published on

20 March 2015

Written by UPNS Admin
Hits:

3187
The National Bank of Ukraine announced on Feb 18, 2015 the launch of three commemorative coins, the Heroes of Maidan series, 2015, dedicated to last year's protests on Maidan that led to the change of power in Kyiv. The coins are called The Revolution of Dignity, Euromaidan and Heavenly Hundred. Each coin has a nominal value of 5 hryvnia and 50,000 were minted of each. The artists who composed the coins are Vladimir Taran, Alexander Kharuk, and Sergei Kharuk.
The Revolution of Dignity:
Dedicated to civic courage and patriotism, which were exhibited by the citizens of Ukraine of all nationalities, in seeking to develop and strengthen the democratic state constitutional principles of democracy, human rights and freedoms. On the obverse side of the coin is a dark black shape of a large bell under which is a member of the Maidan Self-Defense group. The reverse side of the coin shows the confrontation on Maidan during which people burned tires.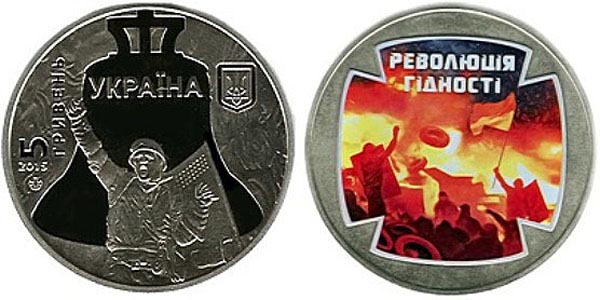 Euromaidan:

The obverse side of the coin depicts a rally framed by a quote from Article 5 of the Constitution of Ukraine: "the bearer of sovereignty / the only source / of POWER IN UKRAINE / are the people. On the reverse side against the background of the flag of the European Union is a hand clenched into a fist, holding the State Flag of Ukraine.
Heavenly Hundred:
Dedicated to the memory of the heroes who became a symbol of dignity, each of whom made a personal act of courage, and took a stand against violence and injustice. On the obverse side laid out on the pavement are carnations, symbolizing the shed blood of the heroes with the inscription: "HEROES / never die!" On the reverse of the coin are candles with flames that rise up into the sky symbolizing the souls of the heroes against the blue-yellow of the National Flag of Ukraine.