Article
Ukrposhta issues stamp for Nadiya Savchenko
Details

Published on

29 March 2015

Written by UPNS Admin
Hits:

4577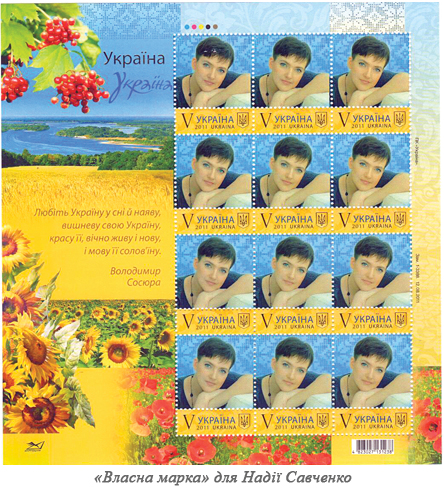 "Ukrposhta" issued a personal postage stamp of Nadiya Savchenko which was mailed to her together with a letter expressing their support.
"We are very worried about the fate of our Hope, because she is an example for all of us. As Shevchenko said "Boritesia - you will win!". She's not just a pilot and our compatriot, first of all, she is a woman who should not suffer like that... We would like to see her soon on our land healthy and smiling! .." - commented on the release of the stamp acting General Director of "Ukrposhta" Ihor Tkachuk.
In 2014 Savchenko, a Ukrainian army lieutenant and helicopter pilot, was captured by pro-Russian rebels in eastern Ukraine, later handed over to Russia as a terrorist, and charged with the killing of two Russian journalists during the 2014 insurgency in Donbass. Russia's Investigative Committee insists she crossed the border voluntarily, without documents and in the guise of a refugee.
In November 2014, while still held prisoner in Russia, Savchenko resigned from the Ukrainian army after being elected and sworn in as a member of the Ukrainian parliament in October 2014 Ukrainian parliamentary election. She has also been appointed to Ukraine's delegation to the Council of Europe's Parliamentary Assembly in Strasbourg. She remains a prisoner in Russia and has been on a hunger strike since her imprisonment. Her lawyer says she is a prisoner-of-war and has called on the International Committee of the Red Cross and the United Nations to demand her immediate release and that of the other Ukrainian POWs lest Russia be held in violation of the Geneva Conventions.